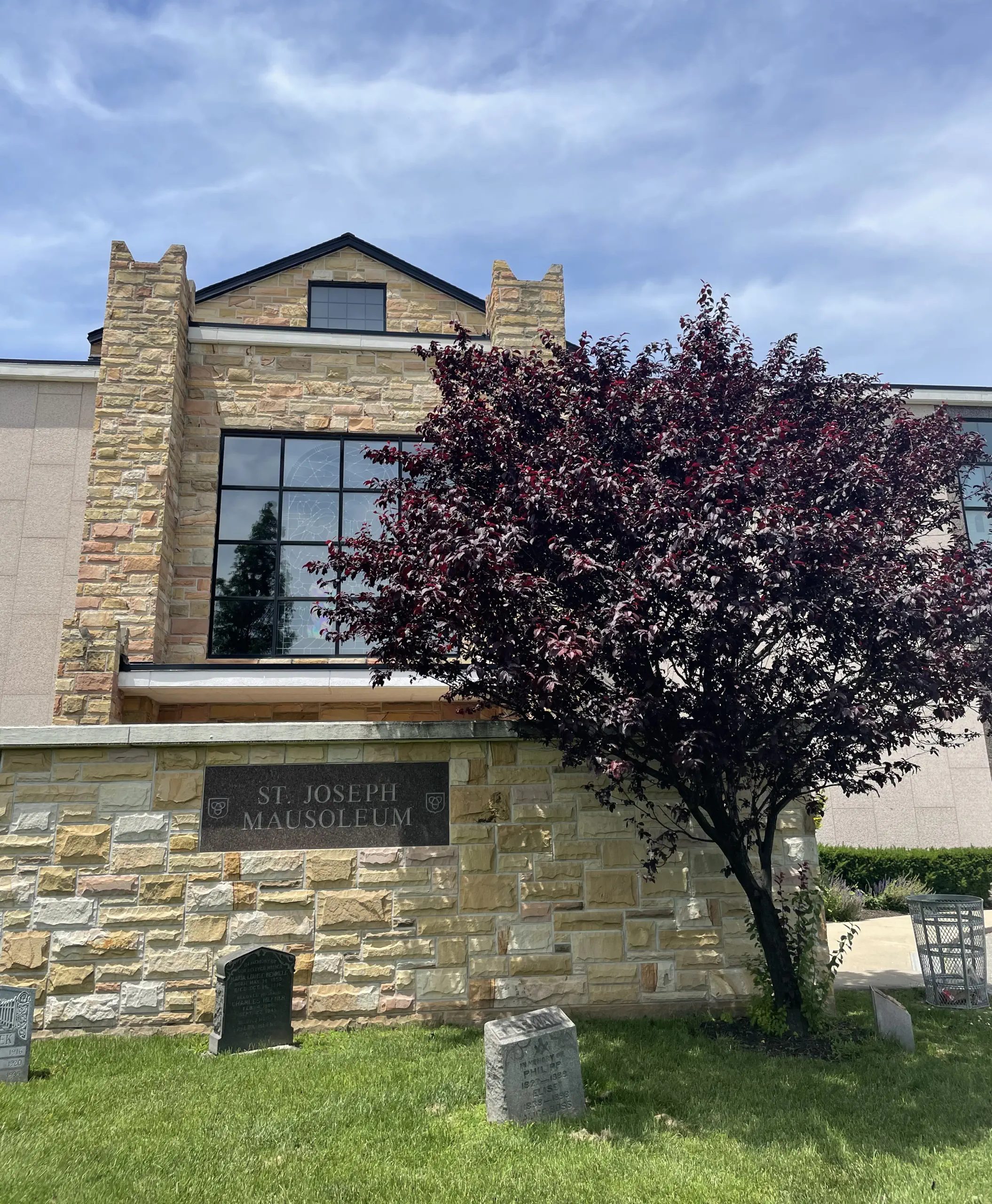 Rules and regulations are reviewed periodically. Anyone interested in expressing opinions regarding Cemetery rules and regulations is encouraged to contact the Cemetery management.
A complete list of Rules and Regulations is available in the Administrative Office.
Visiting times
: Chapel areas will be open during regular Cemetery hours as posted.
Inscriptions, Emblems and Crosses: All inscriptions must meet prescribed standards. An emblem or cross will be permitted for each name on the crypt front. Such emblems and crosses are limited in size and detail as per samples in the Cemetery office.
Photo Memorials: All photo memorials placed on crypt or niche fronts must be of the permanent ceramic type and must be installed by the Cemetery. Photo memorials must conform in size and material composition as specified by the Cemetery.
Flowers and Vases: Artificial flowers will be allowed year round. Flowers will be removed if they become unsightly at the discretion of the Cemetery. Fresh cut flowers will not be allowed and will be removed in the mausoleums each time the building is cleaned. Overstuffing the vase with large amounts of flowers and items is prohibited and such items will be removed. Items that hang from the vase or items affixed to the crypt cover will be removed. Any rule violation will be removed and discarded without notice. Only vases prescribed by the Cemetery will be allowed.
Other: It is strictly prohibited to leave items on the floor such as: flower vases, candles, or other personal items. Such items will be removed and discarded immediately without notice.
The Cemetery, at its discretion, may permit only one memorial for each deed of ownership.
The Cemetery will perform all installations and resetting of foundations. Cost of such services will be billed to the lot owner at the Cemetery's discretion.
No monument will be allowed until the purchase price of the grave and all services pertaining to the grave are paid in full.
The location and position in which a memorial is to be placed or erected shall be subject to approval and under the discretion of the Cemetery.
All memorials are to be constructed of granite or standard bronze.
The grave location must be engraved on the lower right hand corner of each stone or marker.
The size and shape of all memorials are subject to regulations pertaining to each particular section or plot within the Cemetery. These regulations are available at the Cemetery office.
Please do not affix items to an approved monument. These items will be removed at the discretion of the Cemetery.
The Cemetery must approve all memorials.
Planting area: The planting area may not exceed the width of the memorial. The planting area may not extend further than 18″ from the base of the headstone. All plantings or eternal candles are to be placed within this area only. Items may be removed in this area when they become unsightly or if the grass needs to be trimmed.
Flowers: Any vases or other objects holding water must be removed from the Cemetery from May 1-October 31 due to the west nile virus and as per NYC Department of Health and Mental Hygiene under Article 151.03 of the New York City Health Code. The flowers and the vase will be discarded without notice. All other containers that hold water are strictly prohibited. Planted annual flowers are permitted within the 18". The plot owner must maintain these flowers. Planted flowers will be removed when they become unsightly, if the grass needs to be trimmed, or if a grave is opened in the area.
Flags and Veterans emblems: These items may be placed on the grave year round, but they will be removed when they become unsightly, or if the grass needs to be trimmed.
Strictly prohibited items include, but are not limited to:
Wooden crosses
Ivy, trees, bushes, evergreens, rose bushes
Fencing or edging of any kind
Rock borders or rock landscape covering
Glass of any kind
Homemade memorials of any kind
Personal items such as stuffed animals, windmills, toys, etc.
Any items that are removed from the gravesite will be discarded.

All items that are removed will be removed without notice to the plot owner.

Please contact the office before placing or planting questionable items on the grave or crypt location.

The Cemetery is not responsible for any personal item left at a gravesite, crypt or niche.
Everyone is very pleasant and caring. They offered excellent service. Made everything so easy for me in this difficult time. The place is very very nice.
Especial this one person who was very attentive by the name of Cesar. They are very honest and Caring.

Thank you All for your kindness
I have been with st. Michael's for years as my final resting place. I would recommend it to all who's looking for a final peaceful resting place.